Half height shower doors and screens ideal for carer assistance
If you need to create a showering area specifically for use by persons with disability or impaired mobility the Supreme range of high quality half height shower doors and screens are particularly suitable.
Compatible with most low level shower trays (like the Slimline 35 or Mendip) and wet room installations, Supreme half height shower doors and screen panels facilitate carer assistance when necessary.
Supreme half height shower doors and screens are available in a range of standard sizes but can be manufactured to almost any size and configuration to suit your specific needs.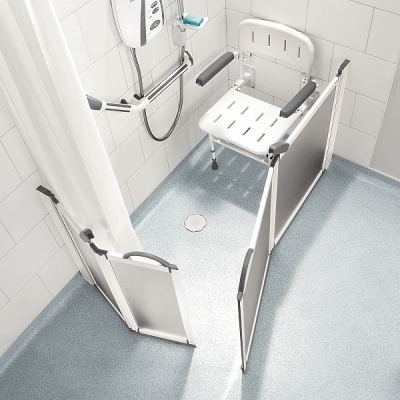 Pictured: Supreme half height folding shower doors enclosing a shower area in a wet room environment.
Complete half height shower enclosures
Supreme shower doors and panels can be purchased on their own or as part of a bespoke shower package which can include shower tray, curtain with rail and shower equipment (or wet room equipment).
You might also be interested in the Supreme range of sliding half height shower doors.
Help is only a phone call away, so please don't hesitate to ask for any assistance you require.