Hide unsightly TV and Satellite cables with the
Mirage TV Cable Cloaking Panel
Have you spent a small fortune upgrading your TV to a large screen wall mounted model? It probably looks wonderful, but what about all those cables? They probably didn't mention those in the shop. Does this look familiar?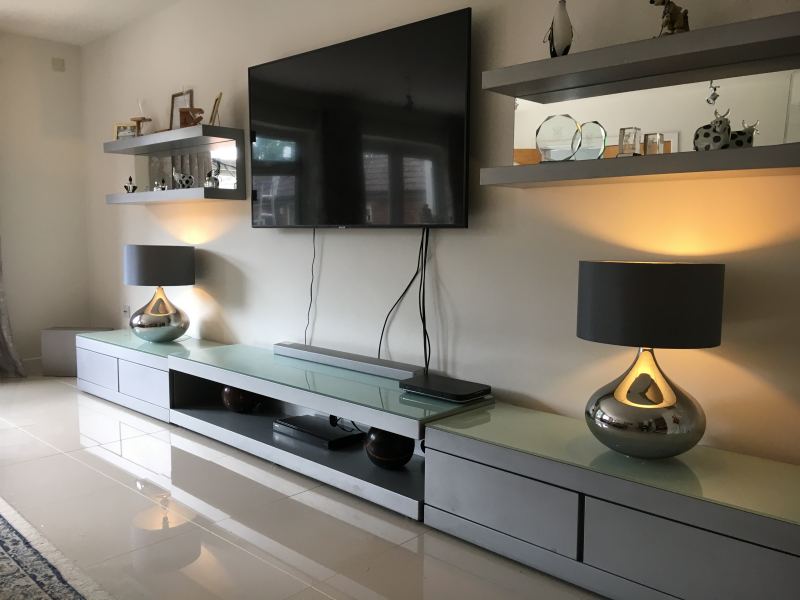 It comes as quite a shock to discover that the essential cables to your TV now ruin the appearance of your beautiful room.
Conventional solutions will have you stick plastic cable trunking up the wall, but that can look horrendous making your designer lounge look like an office or utility room.
Take a look at the Mirage cable cloaking panel. This tasteful solution can be customised to suit your taste. Whether you wish to colour code to match your wall, have it smoked, mirrored or adorned with artwork to express your creativity, the possibilities are endless. What is for sure, you can hide those essential but ugly cables behind the Mirage cable cloaking panel.
The Mirage is a glass panel toughened for strength and safety to European Safety Standard EN12150.

Available in several standard sizes or to your bespoke design, the Mirage cloaking panel is drilled to permit secure fixing to a supporting surface in your chosen location.
The fixing kit includes spacers that stand the panel away from the wall just enough to pass cables behind and out of sight.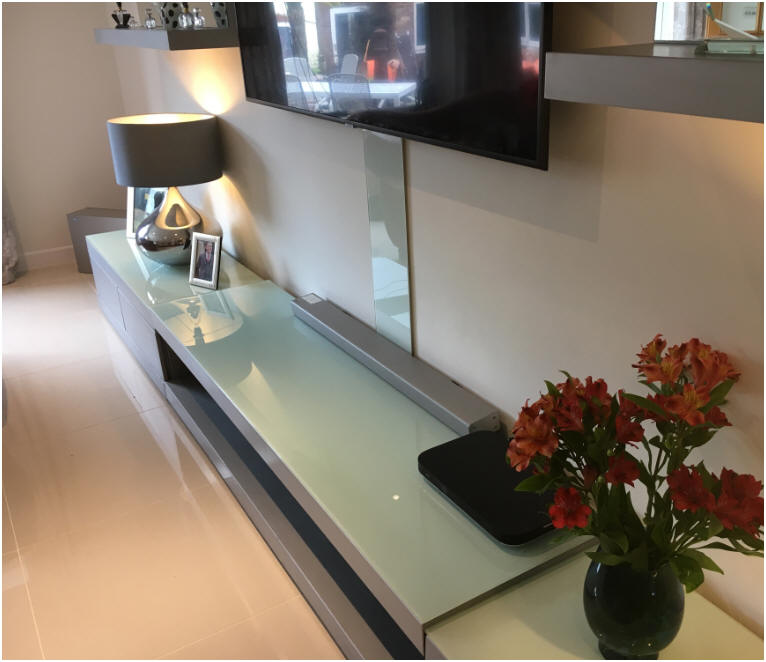 Once installed, the face of the neat glass panel is all you will see. When coloured to match your wall it will blend. If your choice of colour or design is a little more bold the Mirage will make whatever statement you want. Learn more about colour coding
Installation of your Mirage Cable Cloaking Panel
Order your Mirage Cloaking Panel
The standard Mirage Cloaking Panel is clear toughened glass available in 4 standard sizes. Choose the length that best serves to hide your cables.
The standard panel is 200mm wide by:

Length

Thickness

Number of fixings

Price £ inc VAT

600mm

4mm

4

£140.00

800mm

4mm

4

£150.00

1000mm

4mm

4

£175.00

1200mm

4mm

4

£195.00

For bespoke sizes please enquire
Optional finishes (Smoked, Mirror, Etched, Bespoke Artwork etc) are available. Options will attract additional cost. If you have a bespoke requirement please don't hesitate to contact us with your design ideas.
Prices include VAT and postage to most of mainland UK. For overseas please enquire)
(Some areas like the Scottish Highlands and islands may attract additional postage costs)
Installing the Mirage Cable Cloaking Panel
Much goes on behind furniture to enable essential connections to a wall mounted television. However 'smart' your TV might be you will still need to run cables to or from it if just for power.
When a TV is suspended on a wall cables ruin the aesthetics of the room making it look tatty and disorganised. Well they need not any more. Using the beauty of glass you can now place those those ugly cables out of sight with a simple to install cable cloaking panel. Here's how...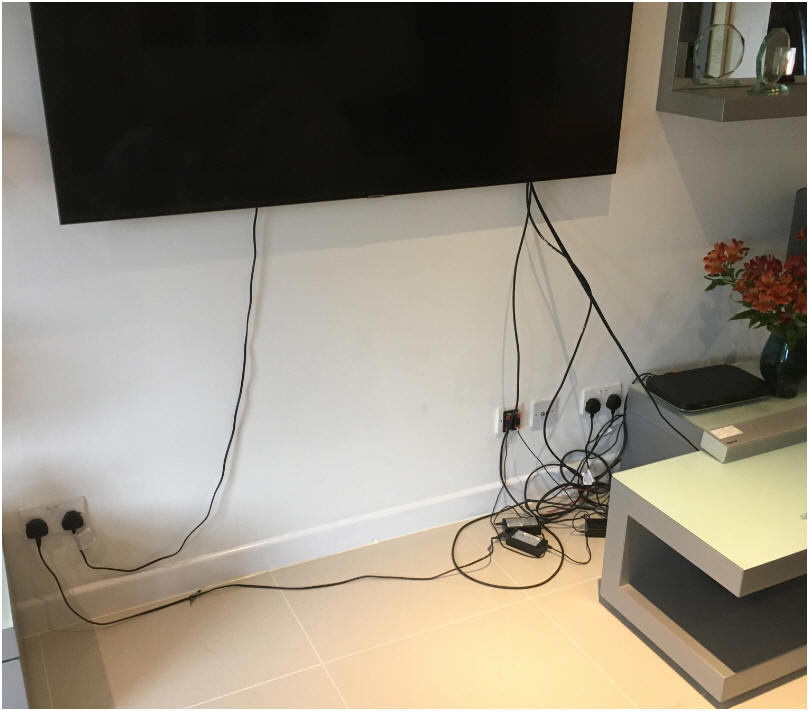 Expose the area below the wall mounted television screen. Remove the furniture behind which cables have partially been hidden.
Mark a point on the wall in the centre at the bottom of the television for reference then remove the TV from the wall.
Install your cable cloak so that the top extends upward beyond the point you have marked. This will ensure it is central to the TV and disappears out of view once the television is replaced. Run all necessary cables behind the panel during the process.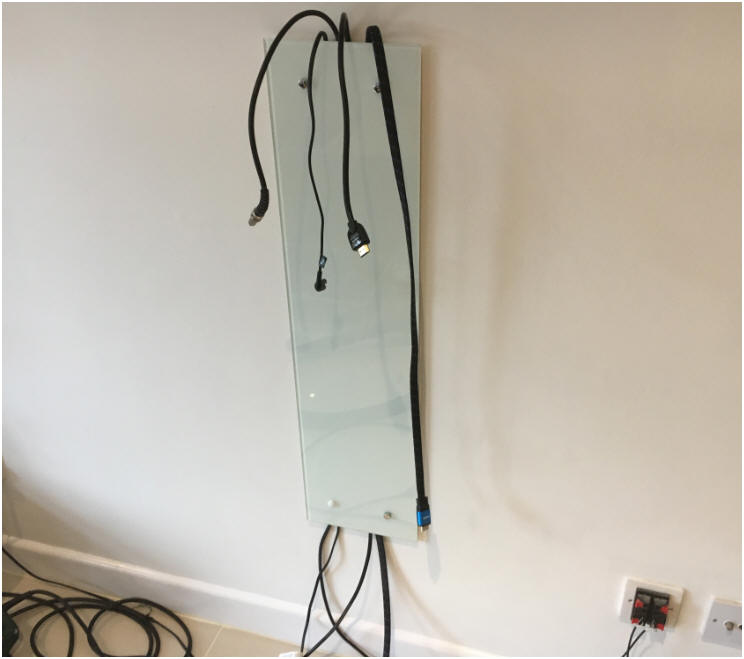 When your cables are in place and your cloaking panel is secure, replace the television, pluging in all requisite cables. Note how the top of the cloaking panel disappears from sight - as do the cables immerging from the top of it.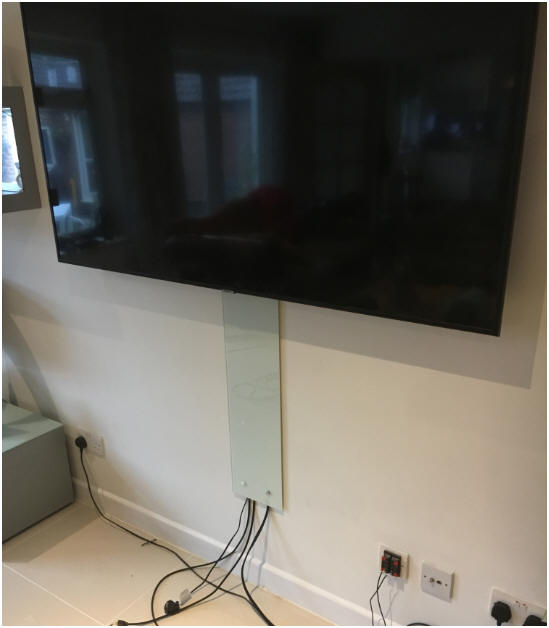 The cloaking panel disappears neatly behind your furniture when replaced. All your cables are hidden and to only thing that remains visible is a tasteful glass panel which in this case has been subtly colour coded.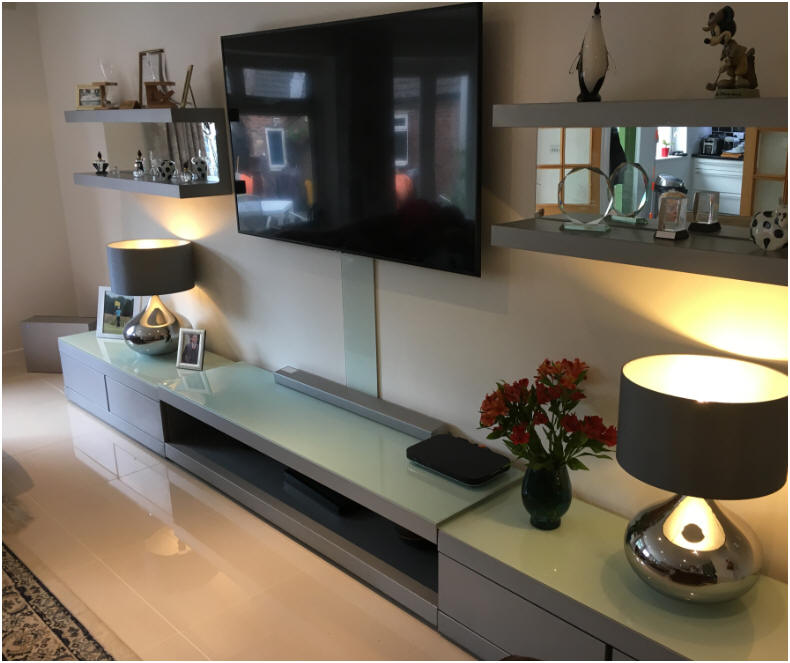 | | |
| --- | --- |
| From this... | To this... |
| | |
| | |
| --- | --- |
| | |